Home

/

John 11 I am the Resurrection and the Life Sunday School Crossword Puzzles
John 11 I am the Resurrection and the Life Sunday School Crossword Puzzles
By: Sharefaith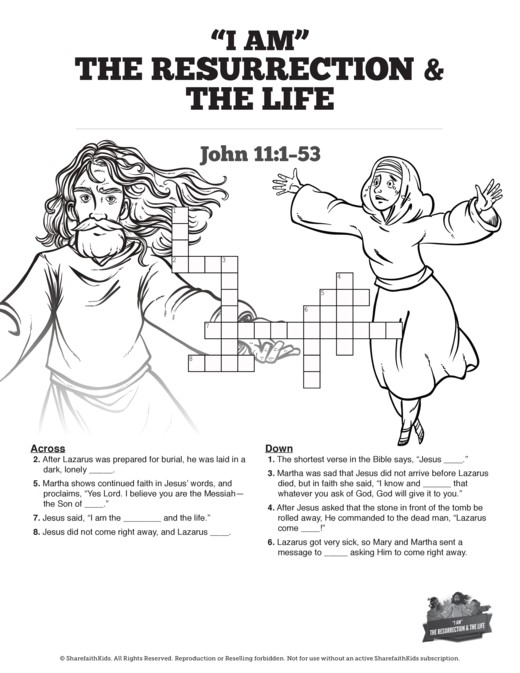 Description: If you're looking for an amazing teaching tool to get your kids in the Bible, then look no further! This Sunday School crossword is not only fun, but it will have your kids searching John 11 to find every answer. Beautifully designed, this kids Bible activity is perfect for your upcoming I am the Resurrection and the Life Sunday School lesson.
More From This Lesson: John 11 I am the Resurrection and the Life Bible Lesson for Kids
This Sunday School lesson is part of the Sharefaith Kids lesson series - I AM, Seven Sayings of Jesus. When Lazarus dies, Jesus returns to Bethany to find the sisters of Lazarus (Martha and Mary) heart-broken. Jesus himself weeps, and then filled with great compassion commands Lazarus to rise from the dead! Centering on themes of faith, hope, and eternal life, this lesson will bless your children and strengthen their faith! All lesson resources are beautifully designed and feature - Bible story video, lesson slideshow, printable activities, curriculum and much more.